Mayan Calendar: 100% Bonus & $10 Free

Your Mayan Prophecy: 100% Monthly
The Mayan Calendar isn't just a system that follows the passage of time. It is a prophetic calendar which helps us understand that past and foresee the future. That's why we've developed our own Mayan Calendar here at Mayan Fortune where you know that you'll be receiving a 100% Match Bonus every Month!
Extra $10 Free
Another part of the Mayan Calendar prophecy developed here at Mayan Fortune is the $10 No Deposit free chip you'll get every month. All you have to do is claim your 100% Monthly Match bonus and you know that you'll get an extra $10 FREE!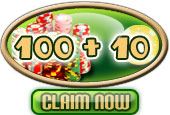 How to Follow the Mayan Calendar
Following the Mayan Calendar at Mayan Fortune is easy. Simply log in to your Real Money casino account on the first of every month and your 100% Deposit Bonus match will be there waiting for you. When you've completed that bonus, check the promotions manager to find an extra $10 no deposit waiting for you.
Visit our No Download Casino Lobby or Download the Casino to start taking advantage of The Quad now. You can even try our games for free without registering in our No Download Casino lobby. But when you're ready to play for real money, remember you have a 4x Deposit Bonuses waiting for you!
Return to our Promotions page to see more promotions.